Department. of Creative Writing
The Department. of Creative Writing implements the education of lectures and practices performed proportionally in order to foster a competent writer who researches literature theory and develops it in a creative way
문예창작학과 소개 - 제목 / 전화번호 팩스번호 위치 - 내용

| | |
| --- | --- |
| Tel | 02-300-0510 |
| Fax | 02-300-0504 |
| Location | Main Bldg. 7F |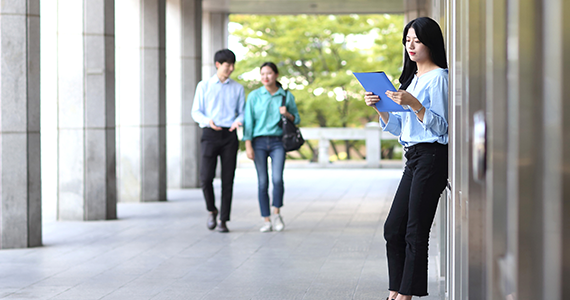 Introduction and Characteristics

The Department of Creative Writing focuses on the practice of creative writing of pure literature and theory research. In order to foster a competent writer who researches literature theory and develops it creatively, lectures and practices are performed proportionally. Furthermore, it has been pursued to foster a competent person who has excellent creativity and typicality as a whole and to make them to advance to the academic world and literary world.
The department educates students not only to develop their own creativity power by emphasizing creative practice and theory research of pure literature but also to inspire creativity power through presentation and discussion. Prominent figures in the literary world, besides full-time lecturer, are appointed as a lecturer and related curriculums regarding broadcasting, publication, and press have been established in order to meet social trends.
In addition, literature lectures have been held frequently by a potential writer in the Korean literature world so that students understand the current and future trends and directly experience various works of writers. Moreover, students can learn proper attitude of creative writers through Literal Travel to visit literal relics, Day of Creative Writers, Summer and Winter Workshop, Work Publication, and Exhibition of Poet and Paintings.
Most students of the department prepare to advance to the literary world and actually a number of graduates became an enrolled writer in the literary world by winning a prize in Sinchunmunye (Press's Annual Literary Contest) and other literal magazines. After the establishment of Graduate School of Creative Writing in 1997, enrollment rate of graduates to Graduate School is increasing and there are a number of graduates who are working as scenarists and journalists in various areas therefore, students of the department are expected to advance to various areas after Graduation.
Mission statement

The Department. of Creative Writing pursues to foster a competent writer and researcher through creative practice and research about the theory of pure literature and applied literature on the basis of Love, Truth, and Service of Christianity Spirit. Detail educational goals are as Follow.
1Improvement of creativity power of pure literature and applied literature
2Improvement of research power for creativity theory of pure literature and applied
3Foster professional writers of pure literature and applied literature
History
문예창작학과 학과연혁
2011.
Memorial ceremony for 20th anniversary of Department of Creative Writing
2004.
Reorganized from Department of Creative Writing of Graduate School of Social Education to Graduate School of Culture and Arts
2000.
Newly established doctoral course of literature in the department
1998.
Reorganized from Department of Arts and Physical Education to College of Humanities
Relocated to Seoul Campus
1997.
Newly established master course of literature in the department
1994.
1st graduation
Newly established master course in Department of Creative Writing of Graduate School of Social Education
1992.
Held the 1st National High School Students Literary Composition Contest (19th Contest as of 2011)
1990.
Newly established Department of Creative Writing
Major Change and Transfer Admission Standard

전과 및 전입사정 기준 - 문예창작학과 전입사정 기준 안내
College
Department
Standard
Remark
College of Humanities
Department of Creative Writing
GPA (30%)
Interview (50%) Creative works or Planning of composition (20%)
A GPA higher than 2.5 is required
Curriculum

창작문예과 커리큘럼표

| Yr. | Curriculum |
| --- | --- |
| Freshmen | Learn and elaborate the basic of writing through basic creative writing and techniques of composition. Hear lectures the theory and principle of creative writing regarding poetry and fiction which is the foundation of literature and expand understanding of literature and imagination |
| Sophomore | Deepen creative writing with learning creative writing principles from each genre. Learn about theory regarding various applied writing such as film scenario and broadcasting literature besides pure literature and lead creativity activities |
| Junior | Deepen creative writing with learning a creative writing principle of each genre. Learn on theory regarding various applied writing such as film scenario and broadcasting literature besides pure literature and lead creativity activities. |
| Senior | Study on systematic literature criticism and current of literature and improve skills for high-quality creative writing and criticism through repeating creative writings and seminars. Complete professional writing skills by paralleling a regularly and substantially class of creative writing and theory which can be helpful to advance to the literary world or employment after graduation |