Counseling Center of Myongji University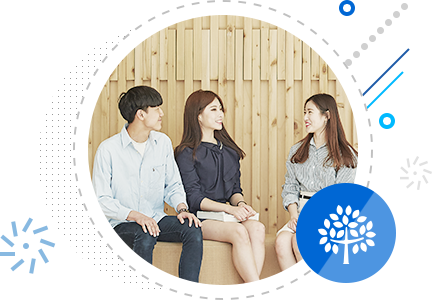 By offering variety of programs to help college students, graduate students, and office workers have a happy college life, mental health, psychological growth and future planning, we aim to make effectively adjust school life and find the career direction. In addition, in the era of international competition for the future, by providing creative personality education that takes advantage of the specialization of universities, we aim to help restore proper relationships.
By effectively dealing with the small and large problems faced in personal lives of faculty members, we help them to reduce stress on the role of work and housework, and we aim to allow them to have stable careers and lives, by helping to find faculty children's learning and psychological stability.
Our purpose is to play the role of a university as a social education institution by providing mental coordinates that help solve difficult problems through the counseling individuals and families (couples, parent-child relationships) of community members.
Counseling Domain
College and graduate students, office student programs

Personal counselling: Learning, career, personality, adaptation, depression, anxiety, interpersonal relationships, sex-related problems
Psychological tests: learning, career, personality, interests, aptitude, self-concept, MBTI test, etc.
Group Counseling: Self-expression, self-identification, career search, stress guidance
Special lecture: Mental health, future design and study, sexual violence, suicide prevention
Violence Prevention Education: Education for prevention to create a university culture that respects each other's personality and considers others
Online Program: E-mail counseling and online psychological testing for students with limited time

Faculty Program

Faculty counseling: Staff counseling, psychological testing, family counseling
Growth Programs for Faculty children: Learning and psychological testing, play therapy, youth counseling, group counseling

Community Residents Program

Community Residents Counseling: Children play therapy, youth counseling, family counseling, personal psychology problems counseling

Gender Equality Counseling Center

The Gender Equality Counseling Office is responsible for counseling and incidents related to sexual harassment and sexual violence on campus.
User's Guide
Counselling can be requested by direct visit, telephone or email
Target: Myongji University students, lifelong education students, faculty, faculty children, local residents
학생상담센터 이용안내-인문/자연
Div
Social Science
Natural Science
Hours :
9am-6pm (Mon-Fri)
9am-5pm (Mon-Fri)
Wednesday Night Consultation (6pm-9pm)-Officer Special Admission Student
Location
Business Administration Bldg. : 02-300-1780 ~ 1
Student Union: 02-300-1776 ~ 7
Ham Bldg. 3F: 9315
Student Union 2F: 209
Tel
Business Administration Bldg.: 02-300-1780 ~ 1
Student Union : 02-300-1776 ~ 7
Hambak Bldg : 031-330-6240
Student Union : 031-330-6240
E-mail
sangdam@mju.ac.kr