College of Engineering

Homepage
The College of Engineering at Myongji University is fostering engineers with excellent practical skills and problem-solving skills through providing the educations of basic theory of engineering, experimentation, design, and industry-academic cooperation.
공과대학 소개 - 제목 / 전화번호 팩스번호 위치 - 내용

| | |
| --- | --- |
| Tel | 031-330-6351 |
| Fax | 031-335-9998 |
| Location | 5237, Engineering Building5 2F, Natural Sciences Campus |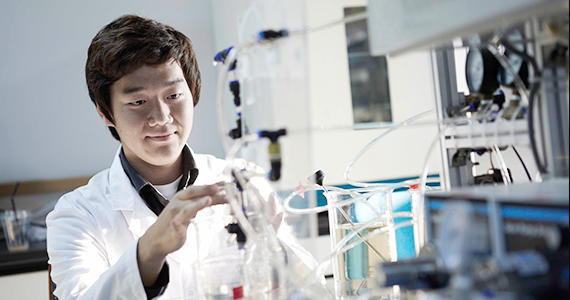 Greetings from the Dean

Fostering creative talents that lead the 4th Industrial Revolution Myongji University College of Engineering has been growing with the history of our industrial development since our establishment in 1962. In particular, we have contributed to the national economic and social development through continually producing excellent engineering talents that are required for various industrial sites and research fields.
The Myongji University College of Engineering comprised of 10 departments has nearly 150 the best faculty and more than 3,800 student study in the best educational environment. All 10 departments of the College of Engineering operate programs in accordance with the Korean Institute for Engineering Education and provide faithful basic education in mathematics and science. On the other hand, they operate the curriculum of major curriculums reflecting the opinions of various industrial sites and strive to foster engineering students with practical problem-solving ability
Also, Engineering Clinic Center is equipped with excellent training facilities to help students embody what they imagine and the Capstone Design Program is operated in cooperation with the industry to provide practical education for the majors. The system for effective start-up education has been established through Start-up Education Center
Recently, the College of Engineering has reorganized its curriculum to keep the pace with the rapidly changing times, and also is playing a role as a cradle for creative human resources who will lead the 4th Industrial Revolution era represented by artificial intelligence and big data. I would like to ask for your interest and support so that The College of Engineering in Myongji University will be the driving force of industrial development and the backbone of engineering development

Thankyou. Jin Seung Yang, Dean of College of Engineering, Myongji University
Introduction

In order to educate engineers required in the information and knowledge-based society of 21st century, the College of Engineering consists of ten departments – Electrical Engineering, Electronic Engineering, Chemical Engineering, New Materials Engineering, Environmental Biotechnology, Computer Engineering, Civil and Environmental Engineering Information Engineering, Communication Engineering, Transportation Engineering, Mechanical Engineering and Industrial Management, and is conducting practical and professional education which is required in the industrial site. In addition to the education, the brilliant research achievements of the professors of the Faculty of Engineering have contributed significantly to raise the profile of the Myongji University. The college is continuously striving to innovate the engineering education to meet the international standards by establishing the Innovation Center for Engineering Education