Dept. of Philosophy
Philosophy that has the oldest history of study has been regarded as the queen of all sciences and flower of humanities
철학과 소개 - 제목 / 전화번호 팩스번호 위치 - 내용

| | |
| --- | --- |
| Tel | 02-300-0630 |
| Fax | 02-300-0504 |
| Location | Main Bldg. 7F |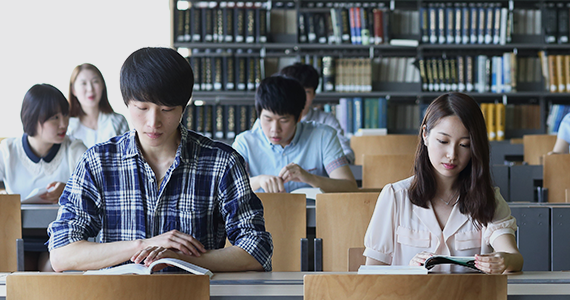 Introduction and Characteristics

Philosophy that has the oldest history of study has been regarded as the queen of all sciences and flower of humanities. Contents to study in the Department of Philosophy is classified into three great divisions.
Firstly, at the Department of Philosophy, students develop logical and critical thinking skills form the foundation of all sciences and intelligent activities. Logic thought in the Department of Philosophy has been regarded as the foundation of study activities of all sciences in Western lands. As our society is gradually rationalized, logical thinking and rational communication become more important. This change is proved to be the fact that logical and critical thinking abilities are measured in the Preliminary Scholastic Aptitude Test (PSAT), Legal Education Eligibility Test (LEET), Dental Education Eligibility Test (DEET) or Medical Education Eligibility Test (MEET) as well as an essay test in a university entrance examination. Notably, many excellent students major in Philosophy to develop logical and critical thinking abilities that are of great importance in law school admission tests in the U.S., where there are no departments of the division of Law. As our education is improved in the direction of developing logical and rational communication abilities from learning by rote, the importance of Philosophy education, which learns to logically and rationally think, speak and write, will be gradually magnified.
Secondly, practical standards like human life, values and a view of the world are reflected in the Department of Philosophy. Only material values are not important to human. Humans are spiritual and cultural beings. Interests in and demands for Philosophy are confirmed to be increasing in these days of being economically more prosperous compared to other time periods. Desire to offset these unbalances of psychologically disadvantaged life involved in economic affluence is spontaneously rising in humans. Not only does education of the Department of Philosophy awaken spiritual life values of humans and investigate the meaning of individual life in the modern material civilization, it seeks the practical standard about human social life plunged in confusion with the periodical change happening at fast pace, such as globalization, informatization, development of biotechnology and exorcises.
Thirdly, the Department of Philosophy fosters outstanding individuals with creative minds who present appropriate answers about the question given in the rapidly changing capitalistic market society. Because today's capitalistic market economy is rapidly changing with various variables, it needs creative individuals who correctly grasp the frequent problems and present appropriate solutions. Practical knowledge loses its value in the rapidly changing situations in a few years. Therefore, not the acquisition of knowledge that is effective for only few years, but the training for creativity is required to apply thinking in principle to various situations. The main subject in Philosophy education is to train judgment that applies the principle to each detail. Software that fills engineering hardware with contents is more important than it in a knowledge-based society, where ideas become competitive and knowledge becomes a capital. Philosophy can foster much bigger and substantial ideas than any practical study by providing cultural concepts in a knowledge-based society, similar to the value of a produced film value equal to tens of thousands of car sales. The Department. of Philosophy where flexible and creative thinking is trained is the leader of achieving high employment rate in Myongji University.
Mission Statement

Philosophy education as a practical fundamental study
Creativity education for a knowledge-based society
Practical standard of education
History
철학과 학과연혁

| | |
| --- | --- |
| 2011. 03. | Established Doctor's Course in the Department |
| 2007. 08. | Established the Graduate School |
| 1995. 03. | Established Department of Philosophy |
Curriculum

History of Philosophy
Western Philosophy
Eastern Philosophy
Essay Education
Certificate Course
Senior
2
European Contemporary Philosophy
Analytics, Existential Philosophy,
Philosophical Understanding of Modern Society, The Philosophy of Heidegger, Hegel Philosophy, Nietzscheanism, Philosophical Counseling and
Psychiatric Treatment,
Educational Philosophy, Philosophy of Technology, Philosophy of Economy
Special Lecture on Eastern Philosophy, Korean Modern Philosophy, Eastern Religious Thought
Theory of Philosophy Education
1
The Trend of Contemporary philosophy
Philosophy of Law., Philosophical Psychology, Philosophical Counseling, Counseling and the Philosopher, The Kantian Philosophy, Cultural Philosophy, Understanding the Philosophy in a Globalizing Era, Philosophy of Communication, Faith and Knowledge, Hegel Aesthetics
Chinese Philosophy in modern times, Thought and Modern times of the East, Eastern Aesthetic Thought, History of Korean Philosophy
Practice in Essay Editing
Junior
2
Selected Readings in Ancient Western Philosophy 2 look-ahead
Metaphysics, Ontology, Philosophy of Religion, Aesthetics (Lecture in English),
Information-Oriented Society and Philosophy, Cultural Philosophy, Philosophy
of Science, Philosophy of Film, Spiritual Philosophy, Counseling
and Philosophy Education, Social Ethics, Modeling Aesthetics, British
and American Contemporary Philosophy, Literature and Philosophy,
European Contemporary Philosophy
Understanding of Neo-Confucian,
Special Lecture in Korean Philosophy, Selected Reading of the Ancient East 2, Introduction to Korean Neo-Confucianism, The philosophy of Yi Hwang, The philosophy of Chu Hsi
Reading and Guided Discussion
1
History of Modern and Contemporary Western Philosophy, Selected Readings in Ancient Western Philosophy 1
Epistemology, German Idealism, Historical Philosophy,
Philosophical Anthropology, Social Philosophy, Philosophy of Language,
Reading on the Original Book in Philosophy, The Questions of Freedom in Film and Philosophy (Lecture in English), Problems of Philosophy, Philosophy of Analytic Philosophy., Rationalism, Literature Aesthetics
Buddhism, Selected Readings in Ancient East, Introduction to Chinese Neo-Confucianism, The Philosophy of Wang Yang Ming
[Education] Choose 1 course from educational courses
Sophomore
2
Modern Western Philosophy
Introduction to Aesthetics, symbolic logic, Empiricism,
Practical Ethics (Applied Ethics is renamed)
Eastern Ethical Thought, Daoism, Confucianism
Guided Discussion
1
Ancient Western Philosophy, History of Ancient and Medieval Western Philosophy
The theory of Philosophy, Ethics, Media Philosophy (Lecture in English)
Introduction to Korean Philosophy, Understanding the Idea of Studying Abroad
Logic
Freshman
2
Introduction to Eastern Philosophy
1
Exploration21*1(First Year), Exploration2*1(Second Year), Seminar on New Students*1, Introduction to Western Philosophy *
Philosophy and Discussion