Founding Spirit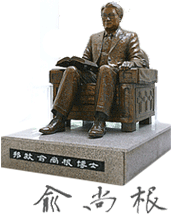 Believing God and be grateful to parents
The founding purpose and spirit of Myongji Institute is to educate capable and faithful individuals not only to contribute to national culture and economics but also contribute to the world peace and development of human culture, following Christian truth: believing God, being filial to parents, loving others as oneself, caring for and developing nature.
January 23, 1956 Founder Sang-geun You
University Philosophy

Myongji University established its university philosophy as the "Christian spirit of love, truth and service"based on pure evangelical beyond denomination to implement the founding spirit of Myongji Institute.
In other words, teaching with the love of Christianity, searching for the truth, and serving for humanity, is to implement the university philosophy of "明知", which means "to teach through lightening knowledge and wisdom"
LOVE

"Love Others as My Body" means Christian love, following Christ's Word

TRUTH

It includes Christian truth as well as general truth.
Christian truth broadly refers to the "Reason of True Life" which includes the concept of "Freedom and Justice".

SERVICE

Giving back to society what has been studied and learned at university, it includes the meaning of volunteering which is highly demanded from the society today. It means our university philosophy is a harmonious human development having a warm heart to love and help others, not means the humans who are only intellectually developed by emphasizing only the education and research which are the main function of the university.
Mission Statement

Myongji University, based on the spirit of Christianity, the founding spirit of Myongji Institute is to research and to teach profound theories, academic integrity and its correct usage of the academy, and aims to foster talents who will contribute to the peace and development of human society through national development and national culture development
1Christian character development through Christian Faith education and personality education
2The capability development to actively adapt to the information-based industrial technology society through academic research and teaching excellence
3Contributing to national development and national culture development by raising independent self-consciousness
4 Cultivating the talented who can contribute to the peace and development of human society in the global society of the 21st century by fostering the spirit of love and service
Education Goal
Developing Christian believers with personality and culture

Christian true Love practice
Establish nature-friendly values
Broad Culture and human respect

Cultivating social workers contributing to national development and national culture development

Developing succession of traditional culture and loyalty mentality
Establishing work ethics and cultivating independent democratic citizens
Respecting laws, moral norms and moral norms and enhancing responsibility
Cultivating professionals through academic research and teaching

Inspiring creative research spirit
Development of professional knowledge and practical skills
Development talents to lead the information society

Cultivating global mankind to contribute to the development of peace and human society

Broad understanding of foreign cultures and respect for universal world norms
Love of peace and practice of service
Establishing independent globalist's attitude through the establishment of self reliance