Department of Japanese Language and Literature
By developing an integrated knowledge system about Japan, it fosters professionals who can do active in any fields after Graduation.
일어일문학과 소개 - 제목 / 전화번호 팩스번호 위치 - 내용

| | |
| --- | --- |
| Tel | 02-300-0550 |
| Fax | 02-300-0504 |
| Location | Main Bldg. 7F |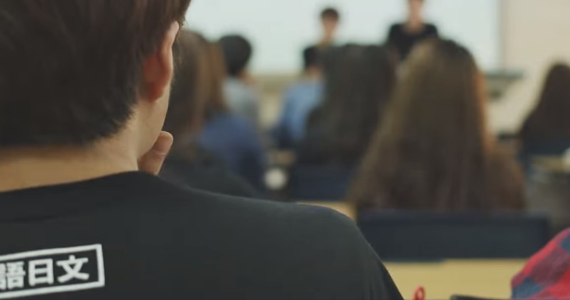 Introduction and Characteristics

The Dept. of Japanese Language and Literature educates students to develop an integrated knowledge system about Japan from language and culture, traditional culture, history and society and art to aesthetic consciousness of Japan. It aims to foster experts who can do active work in any academic-industrial field and outstanding individuals who are equipped with ability for translation and interpretation of Japanese based on a command of exact and practical Japanese. It is carrying out a fixed number of Japanese speaking classes for minority using multimedia materials to enable students to speak Japanese and effectively commutate well with Japanese people. And it is opening interpretation practice classes that professional interpreters are in charge of and is hosting the annual Japanese speech competition with the target of the whole school to participate. Also, it is preparing programs that award scholarships to students who pass 1 JPT or get high scores in JPT for motivation to improve their abilities in Japanese. Moreover, it is conducting annual homestay exchange with Hizen village, Saga in Japan as a program to completely understand Japan including Japanese people, history and culture in addition to language and has entered an agreement for academic exchange with Obirin University, Ibaraki Christian College (1999), Iwate University (2004) and Huji Women's College. So about 15 students have an opportunity to study as an international exchange student in the sister schools for a year and they are provided with short-term study abroad opportunities through various types. The number of Japanese students from the exchange university in Japan is increasing and they take classes with Korean students. It is a good opportunity for international exchange.

Moreover, it obtained an authorization for making curriculum for teaching profession in undergraduate studies in 2004 and students could obtain the 2nd grade teacher certificate for middle school every year. Especially, students who want to be a teacher can acquire a teacher license when they graduate. Some graduates are working as a professional interpreters or translators, advancing to Japanese trading companies with a command of Japanese or working in Korean companies working closely with Japan. In addition, they advance to the fields related to Japan, such as the publishing world, computer and mass communication, along with acceptance of Japanese popular culture like magazine and movie. Meanwhile, 3 or 4 graduates are devoting themselves to their studies by going to study in Japan or entering a graduate school every year and many alumni have obtained a doctor's degree and have been working hard to train the upcoming generation. The Department of Japanese Language and Literature will leap to more developing department in the future.
Mission Statement

The Department of Japanese Language and Literature aims to foster talents leading the 21st century based on the Christian spirit of the Myongji Institute.
Develop specialized knowledge related to the Japanese language and culture
Be equipped with an ability for fluent Japanese conversation
Foster outstanding individuals who contribute to culture exchange between Korea and Japan with in-depth understanding about Japanese culture
History
학과연혁 - 제목 / 일자 - 내용
2012.
1st Japanese Writing Competition
Exchange agreement with Kochi University
2011.
16th Japanese Speech Competition
2010.
Establishment of Doctor's Course in the Department
20th Anniversary of The Founding Japanese Language and Literature
2009.
Conducted 23rd Homestay Exchange with Hizen village
2007.
12th Japanese Speech Competition
(Invited the winner MIRAINO KAI to visit Kansai region in Japan)
2006.
MIRAINO KAI Special invitation performances and speech competition winners visited Japan Kansai Region
2005.
Entered Agreement for Exchange with Huji Women's University in Japan
2004.
Establishment of The Teacher Training Course
2003.
Establishment of The Teacher Training Course
2001.
Establishment of Japanese Conversation Society
2000.
Renamed as Japanese Language and Literature
1999.
1999 Establishment of Japanese Language and Literature in Graduate School
Entered Agreement for Exchange with Ibaraki Christian College, Obirin University in Japan
Establishment of Animation Society of Japan (MANA)

1997.
Relocation to Seoul Campus
1996.
Renamed as department of Japanese
Establishment of Japanese Language Education in Graduate School of Education
1995.
department of Japanese Student returning to School Conference, Establishment of Research Academy (Laputa)
First Japanese Speech Competition
1994.
First students graduated
1993.
First Visit Exchange with Takushoku University in Japan
1992.
Establishment of First workshop
1991.
Foundation of Literary Society (Writing Dance), Academic Society (Asuka), Travel Society (Travel Creation)
1990.
Establishment of Japanese Literature Major in department of Creative Writing, first new students entered the school
The 1st Academic Competition held
The 1st Homestay Exchange with Japan

Curriculum