Department of Library & Information Science
The Department of Library and Information Science fosters professionals in scholarship information and all necessary areas as the field that provide timely access to various information in the modern information age.
문헌정보학과 소개 - 제목 / 전화번호 팩스번호 위치 - 내용

| | |
| --- | --- |
| Tel. | 02-300-0580 |
| Fax | 02-300-0504 |
| Location | Main Bldg. 7F |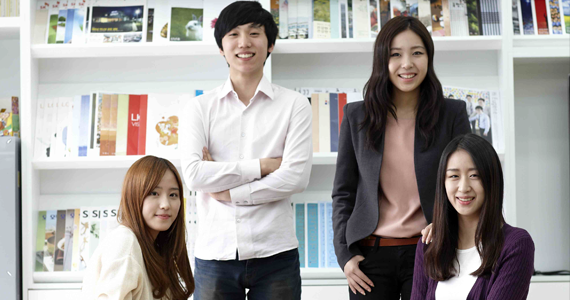 Introduction and Characteristics

The Department of Library & Information Science is a field to make students use diverse information timely in modern information age and is fostering experts who produce, organize, manage and provide the information of all necessary fields and academic information. Notably, more efficient education and study are practiced through computer labs for information system and study for the field of information science. Because the department is closely related to history, linguistics, sociology, psychology, business administration, education, computer science and other adjacent academic fields, after graduation students will be given to wide opportunities to work for each adjacent field as well as a librarian.
The main objective of our department is to cultivate creative librarians and information professionals required by the information society. The policy of our department to achieve this goal is as follows. Enhance the educational effect by effectively utilizing the training equipment. Establish and operate a curriculum review committee with full-time professors, and if necessary, involve student representatives in this committee. Enhance educational performances by expanding opportunities for internship and field trips to the library information system.
Promote the field-oriented education through further activating the Myongji University Library and Information Society (Myungmunyeon) and strengthening the bonds with the students. Through the interview opportunities between professors and students, seek substance for student's college life. In addition, students who complete a single major and graduate can acquire a librarian's teacher certificate only after completing level 2 certificate and teacher's degree courses. They are given the opportunity to find jobs in various libraries and library information management institutions where they can show their competences as the librarian and the information profession.
Students who complete and graduate from dual majors are given the opportunity to advance into various fields based on their individual interests and efforts. However, regardless of single or dual majors, it is important to keep in mind that the basic requirements for our students are excellent foreign language skills in addition to the common sense, culture, and personality. To this end, our students should be motivated and lead progressive lives.
Mission Statement

Fundamental function of library & information system is to collect, process, search and provide library & information and the ultimate goal of this department is to foster professionals who can show their abilities for this function effectively. In order to realize it, professors and students are actively coping with social environment as well as informational environment and are voluntarily devoting themselves to education, study, social voluntary work and character training. Therefore, it aims eventually to creatively contribute to the development of Korean information culture, fulfillment of a welfare society and development of human culture.
History
문헌정보학과 학과연혁

| | |
| --- | --- |
| 2010.11. | Hosted the 30th Anniversary event of the Founding of the Department |
| 2009.03. | Professor Na Hyun Kwon appointed |
| 2009.03. | Professor Young Ah Hyun was inaugurated as College of Humanities Dean |
| 2008.03. | Establishment of Doctor's Course in the Department (5 new students entered each semester) |
| 2007.02. | Professor Young Sung Kim retired |
| 2006.03. | Professor Young Suk Kim appointed |
| 2004.08. | Professor Young Yoon retired |
| 2000.11. | 20th Anniversary Fellow Students' Night Event |
| 1999.03. | Humanities Division affiliated |
| 1991.10. | Department's name change to 'Department of Library and Information Science' approved |
| 1991.03. | Foundation of Myongji University's Library and Information Science Research Association |
| 1984.02. | First class graduated (29 students) |
| 1984.01. | First class graduated (29 students) |
| 1980.03. | First class entered the school |
| 1979.10. | Approved establishment of Department of Library and Information Science (former Department of Library) |
Major Change and Transfer Admission Standard

전과 및 전입사정 기준 - 사학과 전입사정 기준 안내
University
Department
Standard
Remarks
Humanities
Library & Information Science
GPA (70%), Interview (30%)

A GPA higher than 3.5 is required
English Scores (TOEIC, TOEFL, English 1,2) will be referenced.
Curriculum