Department of Chemistry
In order to contribute to the development of human society, it fosters chemists required in the chemical specialty field and industry through basic chemistry theory and applied chemistry education.
화학과 사무실에 대한 전반적인 정보제공

| | |
| --- | --- |
| Tel | 031-330-6148 |
| Fax | 031-335-7248 |
| Location | Next Generation Science Building 2F |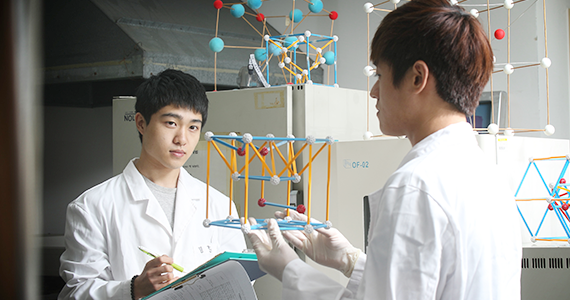 Introduction and Characteristics

To make modern life safer and richer, chemistry is sure to need as a core area. Materials irrelevant to chemistry is nothing around us insomuch, that is very close to us. One with technology enables effective medicine and medical supplies to be cheaper. It also helps chemical Fertilizers and pesticides to be developed and Food production significantly to increase. Therefore, it can dramatically contribute to mankind.
1st Bachelor's Degree in November 1985, 1st Master's Degree in November 1988, and 1st Doctor's Degree in November 1991 were established from department of chemistry. Our basic and advanced courses enable students to study in-depth. Lately, it is commonly applied in combination with studies, such as mechanics, electronics, materials, chemical engineering, etc. and has a greater ripple effect on all about science engineering. The outlook for the field of chemistry looks very bright after Graduation as follows.
Recently, being applied to adjacent studies such as machinery, electronics, materials, chemical engineering, etc., and it is increasing its impact as the study with the greatest ripple effect in almost all engineering fields. Graduates can usually get a job at any company that manufactures materials, including all new materials, electronics, fertilizers, pesticides, pharmaceuticals, paints, cosmetics, food, textiles, petrochemicals, plastics and medical devices, and have an advantage to directly manage such a manufacturing company. Graduates can enter in the fields of IT (Information and Communication Technology), BT (Life Technology), ET (Environmental Technology), NT (Nano Technology), etc. which are required by industrial society to warding cutting-edge technology of infinite competition society.
Mission Statement

For the purpose of building character, culture and contribution to the growth of human society, we educate students basic chemical theories and applied chemistry, through which we aim to foster scientists prepared for chemical specialized industries and related industrial fields
History

화학과 학과연혁

| | |
| --- | --- |
| 2008.02. | "Best group" from Chemistry Department of University Evaluation in nation |
| 2004.03. | Reform from the College of Science to the College of Natural Science |
| 2002.03. | Modification By department within the College of Science |
| 1999.03. | Separation of Division by Mathematics, Physics, and Chemistry |
| 1993.02. | 1st Graduates from Doctor's Degree |
| 1992.08.21. | Admission for Department of Chemistry(Doctor's Degree) |
| 1991.11.16. | Established Doctor's Degree |
| 1991.02.25. | 1st Graduates from Master's Degree |
| 1990.02.25. | 1st Graduates from Bachelor's Degree |
| 1989.10.28. | Departments divided by Campus |
| 1989.03.01. | Admission for Department of Chemistry(Master's Degree) |
| 1988.11.30. | Establishment of Department of Chemistry within Graduate School(Master's Degree) |
| 1987.10.23. | Increase of admission capacity to 10 persons |
| 1986.03.01. | Admission for 1st Bachelors Course |
| 1985.11.05. | Establishment of department of Chemistry within Yong-In Campus |
| 1983.03.08. | Move of Administration of University to Yong-In Campus |
| 1963.01.28. | Organization of Myongji Educational foundation |
Major Process Model
Organization of Myongji Educational foundation

전과 및 전입사정 기준 - 화학과 전입사정 기준 안내

| College | Dept. | Transfer Admission Standard | Remarks |
| --- | --- | --- | --- |
| Natural Sciences | Chemistry | Documents Screening(50%), Interview(30%), Aptitude(20%) | |
Curriculum

화학과 학년별 교육과정에 대한 안내

| Year | Curriculum |
| --- | --- |
| Freshman | Chemistry1 / Chemistry2 / Chemical Experiment1 / Chemical Experiment2 |
| Sophomore | Inorganic Chemistry 1 / Inorganic Chemistry 2 / Physical Chemistry 1 / Physical Chemistry 2 / Computational Chemistry / Analytical Chemistry 1 / Analytical Chemistry 2 / Biochemistry / Bioorganic Chemistry1/ Bioorganic Chemistry2 |
| Junior | Inorganic Chemistry 3 / Inorganic Chemistry 4 / Bioorganic Chemistry3/ Physical Chemistry 3 / Physical Chemistry 4 / Organic Compounds / Quantum Chemistry / Biochemical Reaction / Inorganic Chemistry Experiment 1 / Analytical Chemistry Experiment 1 / Physical Chemistry Experiment 1 / Bioorganic Chemistry Experiment1 |
| Senior | Analytical Chemistry 3 / Enzyme Chemistry / Polymer Chemistry / Inorganic Chemistry Experiment2/ Physical Chemistry Experiment2 / Analytical Chemistry Experiment2, / Bioorganic Chemistry Experiment2 / Thesis Research Course / Graduation Thesis / Seminar & Special Topics / Crystal Structure / Solid state Chemistry / Surface Science / Molecular Spectroscopy / Advanced Organic Chemistry / Applied Biochemistry / Organic Structure Analysis / Molecular Spectroscopy |