Department of Baduk Studies
The Department of Baduk Studies in Myongji University seeks to contribute to the development of Baduk culture by providing new paradigm based diverse knowledge.
바둑학과 소개 - 제목 / 전화번호 팩스번호 위치 - 내용

| | |
| --- | --- |
| Tel | 031-330-6255 |
| Fax | 031-330-6212 |
| Location | Arts and Design Center 2F |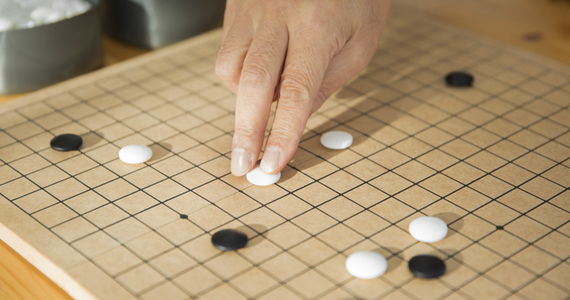 Introduction and Specialization

Baduk, which has a long history in Oriental countries, is a mental sport that contains profound philosophy, artistry and wisdom. Recently, Baduk popularity has started to increase as well be recognized as a useful tool for human lives. Furthermore, there have been claims that it is most exciting game today. The Department of Baduk Studies was established in 1997, for the first time in history, to pursue the academic study of Baduk. Although Baduk has been regarded as a precious cultural icon, it has not been scientifically studied due to man's traditional adherence to its technique alone. The department's goal is to contribute to the development of Baduk culture by providing new paradigm-based knowledge beyond the technique-biased approach to Baduk.
As Korea has become the strongest and the most actively Baduk-playing country in the world, it is expected to play a leading role in a variety Baduk activities. In response to this trend, the Department of Baduk Studies seeks for following educational outcomes. To approach this, we will teach students Baduk theory and technique systematically, research Baduk culture in depth, and acquire extensive knowledge in the field related to Baduk. Graduates will make proper Baduk leaders in Korea and in foreign countries by providing people with the opportunity to learn and understand the value of Baduk. The area of Baduk consists of the nature of Baduk, technical theory, practical skills, applications in related fields, Baduk education and vocational practice. Students who major in Baduk Studies will acquire a minimum 5-dan level, and proficient foreign language skills so that they can work as experts in the various fields of Baduk. The career path of graduates includes Baduk educator, Baduk business manager, broadcasting PD and planner, writer, contributor, reporter, professional player, etc.
Mission Statement

1To produce Baduk players above 5 dan level
2To acquire a deeper knowledge of life from Baduk culture
3To develop and educate leaders in the field of Baduk
4To teach foreign languages to students who can introduce Baduk culture to the world.
History

바둑학과 학과연혁 연도별 소개

| | |
| --- | --- |
| 2009. | Establishment of Baduk Studies Doctor's course at Graduate School |
| 2006. | Dispatch of the 2nd instructor overseas |
| 2006. | Agreement with Osaka Commercial College in Japan |
| 2005. | Dispatch of the First instructor overseas |
| 2003. | Produced the First Master of Art in Baduk Studies |
| 2001. | Establishment of Graduate School of Baduk Studies |
| 2000. | Appearance of the First Bachelor of Art in Baduk Studies |
| 1999. | Increase of admission in 99 capacitys to 30 |
| 1998. | Department of Baduk Studies within the College of Arts and Physical Education |
| 1997. | Establishment of Baduk Instruction Studies in the College of Arts and Physical Education (capacity 20) |
Major Change and Transfer Admission Standard

전과 및 전입사정 기준 - 바둑학과 전입사정 기준 안내

| College | Department | Standard | Remarks |
| --- | --- | --- | --- |
| Arts and Physical Education | Baduk Studies | Study Plan(20%), Practical Test(30%), Interview(50%) | |
Curriculum

During the period of freshman and sophomore, students will learn the general techniques and liberal knowledge of Baduk. As juniors and seniors, students will learn in-depth major subjects and vocational skills related subjects. Therefore, they will broaden their general knowledge on Baduk as well as practically subdivide their majors to acquire the skills necessary in the real professions
바둑학과 학년별 교육과정에 대한 안내

| Year | Curriculum |
| --- | --- |
| Freshman | Principles of life & death / Bridge / Strategic move & formula / Chess / Technical practice 1, 2 |
| Sophomore | Baduk Education / Baduk Event / General theory of Baduk techniques / Methods of Baduk Research/ Principles of the Middle Game / Baduk Instruction for Adults / Baduk Instruction for Children / Technical Practice 3,4 |
| Junior | Baduk English1 / History of Baduk / Practice of Instruction / Special Lecture on Themes of Baduk Studies / Play & Comprehension of Baduk / Baduk English2 / Computer & Baduk / Educational Marketing of Baduk /Psychology of Baduk / Baduk Statistics Utilization |
| Senior | Evaluation in Baduk / Literature of Baduk / Baduk Broadcast Theory/ Seminar of Real Baduk Games / Management of Baduk Masters / Skills of Baduk / Mental Cultivation through Baduk / Practice |