Department of Real Estate
The department of Real Estate aims to foster professionals with diverse abilities in real estate problems by strengthening basic theory and practical training in the fields of law, economics, technology, and management of real estate.
부동산학과 소개 - 제목 / 전화번호 팩스번호 위치 - 내용

| | |
| --- | --- |
| Tel | 02-300-0739 |
| Fax | 02-300-0734 |
| Location | Business Administration Bldg. 7F |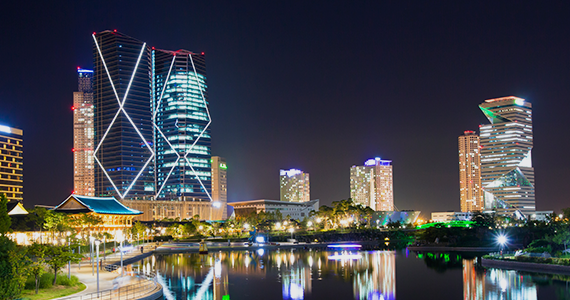 Introduction and Characteristics

The Department of Real Estate is established to satisfy the goal of a government policy which intends to provide specialized high school graduates and the adults over 30 years old with an opportunity to get university education. It is also established to use resources of Graduate School of Real Estate and Distribution Management in Myongji University, considering its relationship with the Graduate School. It aims to foster professionals who have both knowledge and executive ability needed to maintain and develop real estate so that every citizen can be Full of life, through harmoniously developing and effectively using the limited real estate resources.
Mission Statement

Its goal is to foster the professional who can approach real estate with a wide perspective, therefore considering social/humanistic/natural/local characteristics of the problem. The department tries to achieve this goal by reinforcing education of basic theories and practices of legal/economic/technological/administrative fields of real estate.
History

학과연혁 - 제목 / 일자 - 내용

| | |
| --- | --- |
| 2017년 3월 | Freshman admitted under Department of Real Estate in College of Future Conversion (Exiting students remained under Department of Real Estate in College of Business Administration) |
| 2016년 5월 | Selected for a Lifelong Education College Support Project |
| 2015년 3월 | Selected as a Lifelong Learning Center University by Ministry of Education |
| 2015년 2월 | First graduates |
| 2011년 3월 | Department of Real Estate established and 1st Freshman admitted within the College of Business Administration |
Major and Roadmap

부동산학과 전공이수로드맵 - 학년/부동산일반/경제·경영/법·제도·정책/기술·실무에 대한 분류안내
Year
Real Estate
Economics Management
Law·Institution·Policy
Technology·Practice
Freshman
Introduction to Real Estate Law*
Microeconomics*
Democracy and Modern Society*
Understanding of Law and Institution*
Sophomore
Introduction to Real Estate
Real Estate Economics
Real Estate Location Theory
Urban Planning
Regulations on Real Estate
Real Estate Transactions Law
Introduction to Civil Law *
Real Estate Public Notification
Spatial information theory
Junior
Real Estate Appraise
Real Estate Market Analytics
Real Estate Marketing
Land Policies
Housing Policy
Real Estate Development
Real Estate Rights Analysis
Real Estate Brokerage
Housing Management
Senior
Real Estate Consulting
Real Estate Property Management
Real Estate Investment
Overseas Real Estate Investment
Real Estate Tax
Office Building Management
Real Estate Development Case Study
Urban Renovation
Urban Renovation
* : Given as liberal arts subjects
Major Change and Transfer Admission Standard

Admission Decision

The Department of Real Estate selects incumbent workers with graduating from specialized high schools by Special Screening Process.
Qualification

1One who has graduated from a specialized high school under the Higher Education Act and has been working for industry over 3 years.
2Adults over 30 years old who are equivalent to high school graduation
Further details about admission, please visit to admission homepage of College of Future Convergence.
Direct visit to admission homepage of College of Future Convergence
Curriculum

부동산학과 교과과정 - 과목에 따른 간략한 내용소개
Course Title
Description
Introduction to Real Estate
This course is an introductory basic course in real estate, including concepts and characteristics of real estate, research methodology, real estate business management, marketing, evaluation, brokerage, rights analysis, location selection, real estate finance, real estate management, real estate investment, real estate policy, and real estate tax.
Real Estate Economics
This class deals with economic analysis of real estate market. Its primary contents are economic analysis, case study, practice of real estate which include purpose and function of a market, real estate rent pricing model, real estate asset pricing model, price bubble, relations between macroeconomics and real estate market, Hedonic pricing model.
Real Estate Transactions Law
This course lectures on legal problems concerning real estate transactions such as right analysis and contract in words of civil law. Primary contents include; General Provisions of Civil Code (meaning, distinction, legal actions of real estate,) Creation, Change, and Extinction in Title on Property, Limited Real Rights(usufructuary real right, and security real right), Real Right of Provisional Registration Security(provisional registration security, security for transfer), General Principles of Real Estate Contract Law(sale, exchange, lease, or the rental of real estate), Law on Housing and Commercial Building tenants, Real Estate Practice and so on.
Real Estate Brokerage
Real Estate Brokerage deals with legal, economic, administrative theories to help consumers' transactions. In detail, its studies laws/systems concerning brokerage, planning for effective brokerage activity and task, and planning for operating and managing brokerage firms.
Urban Planning
This course aims to cultivate overall knowledge about urban planning. Principles consist of essence/shift of town, theory/system of planning, investigation/analysis of town, and future outlook. On the other side, details include executive planning of various fields such as population, land usage, transportation, environment planning and so on.
Real Estate Appraise
This course studies basic theories of appraisal which analyze and evaluate the economic value of the real estate. In detail, this class involves studying value theory, appraisal theory, capitalization method, market access, cost approach and so on.
Real Estate Location Theory
First, understand the components of location and figure out the methodology to measure them. Second, understand the principle of demand generation for a specific purpose and learn the basic analysis ability to calculate demand based on it. Third, be equipped with the ability to analyze location and calculate the demand by type, such as residential, manufacturing, business, and retail. (Amended in Aug 8, 2017)
Regulations on Real Estate
This course studies diverse systems and contents of regulations that affect development and investment of real estate. Primary materials include constitution of regulations on real estate, an introduction to national land use planning, legislations regarding land planning and usage (contents of legislation, establishment procedure, limits on action, admission procedure), and understanding regulations on the stabilization of property prices (comparing and understanding changes in regulations due to policy changes.)
(Real Estate Information)
(Updated later)
Real Estate Examination
This field of study emphasizes the legal side of real estate, and supports transaction activities such as real estate appraisal, brokerage and consulting activities. It especially intends to foster an ability to make real estate activities safe by analyzing regulations, real estate owners, and other relations in real estate law.
Real Estate Taxes
It practices research on system and application of taxes related to real estate. In other words, it deals with improving comprehension and analyzing effects of tax system when acquisition, retention, development, and transfer occurs.
Real Estate Public Notification
This course studies theories and legislations of cadaster and registration to help determine real estate investments and manage land effectively. In detail, it deals with form and continuity of real estate interest relations by investigating, analyzing, decoding registration and cadaster.
Land Policies
This course deals with reasons for and problems of government participation in real estate market, and also deals with current primary policies. Particular contents would be sharing responsibility between market and policy, problems of real estate market in Korea, appropriateness and problems of various regulations on real estate, introduction to taxation system and financial policies of real estate, improvement planning, and real estate policy direction of unified Korea.
Housing Policy
Firstly, understand Housing problems and cultivate the ability to diagnose them.
Secondly, understand the basics of government housing policy concepts and types, etc.
Thirdly, cultivate the ability to explore housing policy evaluation methods and alternatives to housing policy. (Amended in Aug 8, 2017)
Real Estate Market Analytics
This course teaches methods of investigation and analysis concerning real estate. In particular, it teaches various investigation methods and data collecting methods, survey, survey writing methods, interview methods, and survey analysis.
Real Estate Development
This course aims to cultivate basic knowledge of real estate development, through introduction of basic real estate theories. Also, it offers practical understanding of real estate development through analysis of each step of real estate development, validity check, and development credit.
Real Estate Finance
This course lectures on advanced financing techniques which controls demand and supply of housing finance as a way of financing. Primary contents include long-term capital market, short-term finance market, P/F Loan, P/F ABS, P/F ABCP, REITs, residential long-term mortgage.
Urban Renovation
This course studies offer proper directions of urban renovation and cultivates executive skills of urban renovation by studying practical business/procedures/applying standard concerning residential environment renovation, housing renewal project, housing rebuilding plan, urban renovation.
(Residential Property Management)
(updated later)
Residential Facility Management
In the case of managing complex buildings such as apartment houses, it is necessary to understand the basic concepts and design drawings of the construction and facilities in advance. This subject, particular, concentrates on general architectural structures, except wood, steel, and special structures, and the introduction of building equipment, except air conditioning and refrigeration.
Foreign Real Estate Investment
The purpose of this course is to study the real estate development field in depth and to advance to the overseas development field through the data analysis such as each country's laws and regulations relating to real estate, current status of the development and difficulties with age-specific plot of the population, and income level of the people, etc.
Real Estate Development Consulting
This course does case studies regarding real estate development consulting. Through submitting team or individual development consulting papers on given topics, it cultivates practice skills via discussion.
Real Estate Marketing
This course studies and researches basic theories and utilization of real estate marketing. In particular, it teaches consumer and market analysis, STP, marketing strategy establishment, composition and practice of marketing program, and so on.
Real Estate Investment
It's an introduction class to investment income factor analysis regarding income property. Primary contents include currency flow of real estate investment, definition of internal rate of return and net present value, leverage effect, real estate strategy of business, limited partnership and real estate investment trusts
Real Estate Property Management
This course aims to improve comprehension and research utilization of compound property portfolio management including real estate property management. It discusses Real Estate Investment Company Act, investments such as real estate indirect investment vehicle and private banking, proper asset allocation of mixed-asset portfolio, risk management and so on.
Topics in Real Estate Practice
This course researches and analyzes various real estate cases in practice.
(Office Building Management)
(updated later)